Resources
Qualified Individuals :: On-Site Sewage Disposal Systems :: Introduction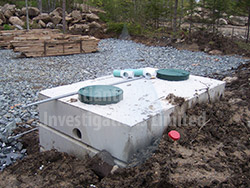 A Septic Disposal System is composed of two parts, the septic tank and the septic disposal field. This requires the work of a Qualified Person licensed by Nova Scotia Environment (NSE). Dean Walker of Atlantic Water Investigations Limited has been licensed since 1996 by NSE and conducted over 6000 septic inspections. When looking for someone to advise on a system for you, be sure to ask the following questions:
Is the person conducting the septic inspection Licensed by NSE?
If they are not licensed with NSE they have no business being on the property, unless they have been accompanied by a Qualified Person who can provide a "Qualified Opinion and Advise". Qualified Persons are qualified to select, on-site sewage disposal systems for single family residential dwellings. Qualified Persons Level II carry a Certification of Qualification from Nova Scotia Environment. They are technical
persons holding valid liability insurance and have been properly trained and certified.

Do they have Errors and Omissions Insurance for providing advice on the septic system?

Do they have Commercial General Liability Insurance for digging into the septic system and for releasing sewer gases into homes or damages to the septic pipe when removing and or installing the cleanout plug or toilet for video inspection work or removing and installing septic tank covers?
Click here to view a list of people licensed by NSE or you can contact the department at (902) 424-7773.