Radon




What can I do about it?


C-NRPP ID 201643CRT Radon Certified http://c-nrpp.ca/find-a-professional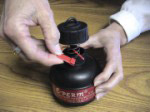 The tests are relatively easy to have done and somewhat inexpensive for the sake of health and peace of mind. Atlantic Water Investigations Limited performs the test with the Corentium Pro Continuous Monitor and back up Electret-Passive Environmental Radon Monitor (E-PERM).
Click here to learn more about the Investigation Services we provide.